"I believe in training up a child the way that they should go and when they are older they will not depart from it". Proverbs 22:6 This is why I feel that from the very moment that your child comes out of the womb it is never too early to teach them about God. The earlier the better. The wonderful thing about the world in which we live is that there are so many resources and books that can reach out to your child in a way in which they would understand.
Veggietales has come up with a book for boys in which they have devotionals for each day of the year. As I read the book with my son I must say that it is really good. I mean there are some lessons and prayers in which could be applicable to me. Even as I read the devotionals to my son, I learn something for myself.
I like this book because it is very direct. For each day it gives a title of the devotional, Bible verse, and how these Bible verses applies to your child. At the end it has a prayer after each day that the child can say that is applicable to the Bible verse. I feel this is relevant because all children need to learn to pray. And not just those little prayers that we say not really knowing what they mean. I mean those prayers are great and all, but instilling true Christian values in your child is beyond just saying prayers before meal time and bed time. In fact this was Day 1 lesson in this Veggietale book, making time for God.
I think children can comprehend more than what you think. I enjoy this book because it does not tip toe around Christianity but rather confronts it and teaches it to your child head on. Which to me, is what you want. I do not want my son being one of those people who say they are Christian but have no idea about the Bible, what it says, Jesus, or the importance of having a relationships with God. I feel this book addresses all of this.
Since my son is only six, once we have done the devotionals, I plan on starting over. I cannot really say the age range for this book seeing as how I can read it and still feel like I can get something out it. In fact, some of the advice hit home for me too, which it why reading this book with your child can assist you in your Biblical knowledge as well. And the prayers can also be applied to adults.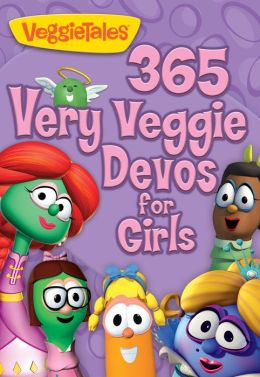 On some devotionals they have tips to start your day or tips in which your child can apply the lesson for the day. I read it with my son at bedtime especially since there is a prayer with each devotional. I feel this is the perfect day to wine down for us. Since I have the devotionals for boys, some of then speak directly to males. I do not think anything is wrong with that. Boy need to be taught how to be men any way, Lord knows there are so many grown men running around still acting like boys.
I recommend for every parent of a child to get this book. If will come in handy for a long time and you can expect it to deliver on teaching good Christian values. In case you do not have a boy, they also have one for girls.
Click Below For More Details